Yummy Homemade Cinnamon Rolls — Made from Scratch, No Preservatives, Soft, Moist and Delicious! 
What Makes Us Different?
Ya' know how you have to work to get to the delicious center of a cinnamon roll?
Well, every bite of a Betty's Buns Cinnamon Roll is all that and more!
Find us at the Brentwood Farmers Market every Saturday and year round!

So make sure to look us up on our social media for weekly schedule!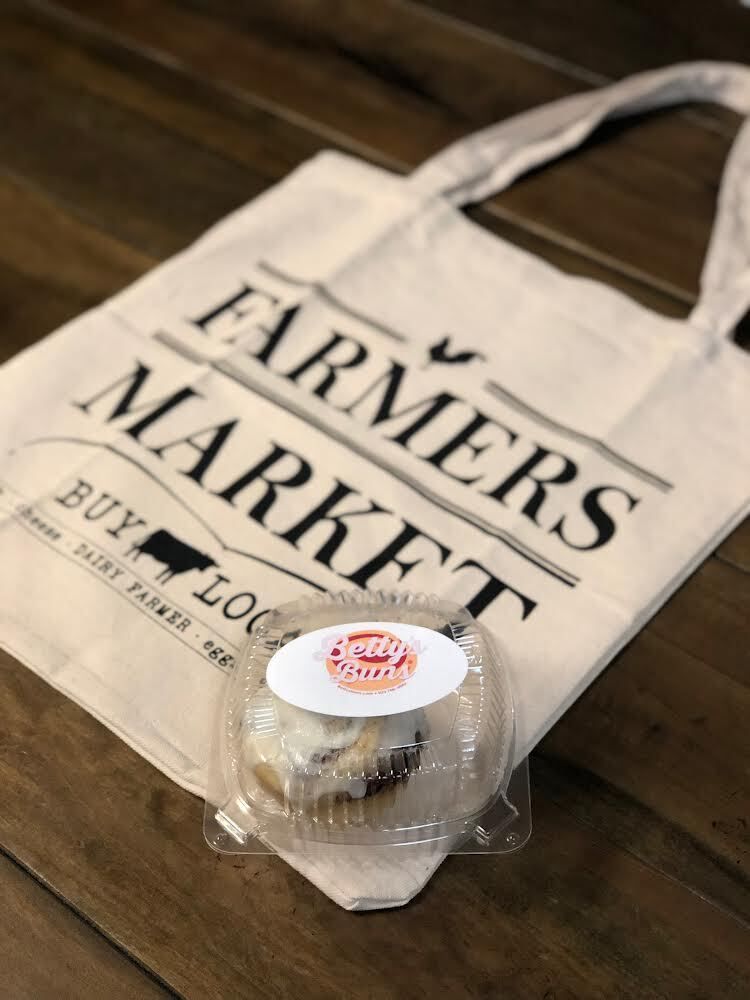 The Sweetest Food Truck in Town!
Follow us in our fully remodeled vintage horse trailer converted into our food truck around town and surrounding areas!
You can also hire us for events, weddings
(late night snacks) birthday parties, etc... what could be cuter than us pulling up & serving our delicious Buns out of our food trailer!
Whether for a Birthday, Valentine's Day, Mother's Day, Father's Day, Easter, Thanksgiving, Christmas or other special occasion, Betty's Buns are a delightful gift and are sure to be the hit of your party!
Ready to order your own Betty's Buns?
From buns, bites and more
Order your Betty's Buns now
Get on our plan to receive a delivery of fresh homemade buns
right to your home or office.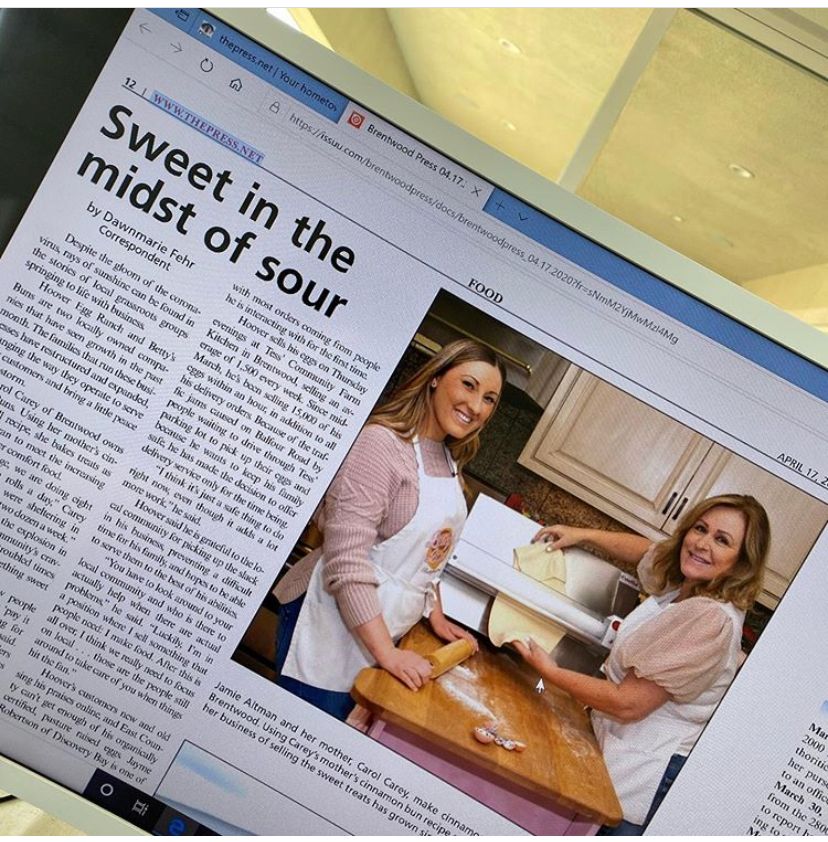 Sweet in the midst of sour
Despite the gloom of the coronavirus, rays of sunshine can be found in the stories of local grassroots groups springing to life with business.
Hoover Egg Ranch and Betty's Buns are two locally owned companies that have seen growth in the past month. The families that run these businesses have restructured and expanded, changing the way they operate to serve their customers and bring a little peace in the storm.
"On average, we are doing eight dozen cinnamon rolls a day," Carey said. "Before we were sheltering in place, we did maybe two dozen a week."
Carey attributes the explosion in her business to the community's craving for comfort food in troubled times or wanting to share something sweet with others.
"We have a lot of new people and a lot of people doing the 'pay it forward' kind of thing, ordering for their neighbors or friends," Carey said. "We've had orders for first responders and nurses; we've done some donations for things like that. And people are buying for police officers. It's grown from there, but specifically the 'paying it forward' has been sweet to see."
Carey called on her family to help her manage the increasing number of orders Betty's Buns is receiving. Her sons and daughter are all pitching in, making the business a family affair. Her daughter, Jamie Altman, said she is happy to be part of her grandmother's legacy.
"I am so proud of my mom and blessed to help build this family business as a tribute to my Mimi Betty," Altman said. "I know the success of Betty's Buns is putting a smile on my Mimi's face as she continues to heal in a rehabilitation center after a severe fall in December."
Hoover Egg Ranch has also grown its customer base but without increasing production. Owner Steve Hoover said his chickens produce about 22,000 eggs each week, and there isn't much he can do to increase that, aside from getting more chickens.
"Because of this pandemic, we went and talked to our distributor and cut him way back, so we could focus on helping as many people here in East County as we could," Hoover said. "I diverted a bunch of our eggs to our local consumers here in the Brentwood area."
read more...
The Story Of Betty's Buns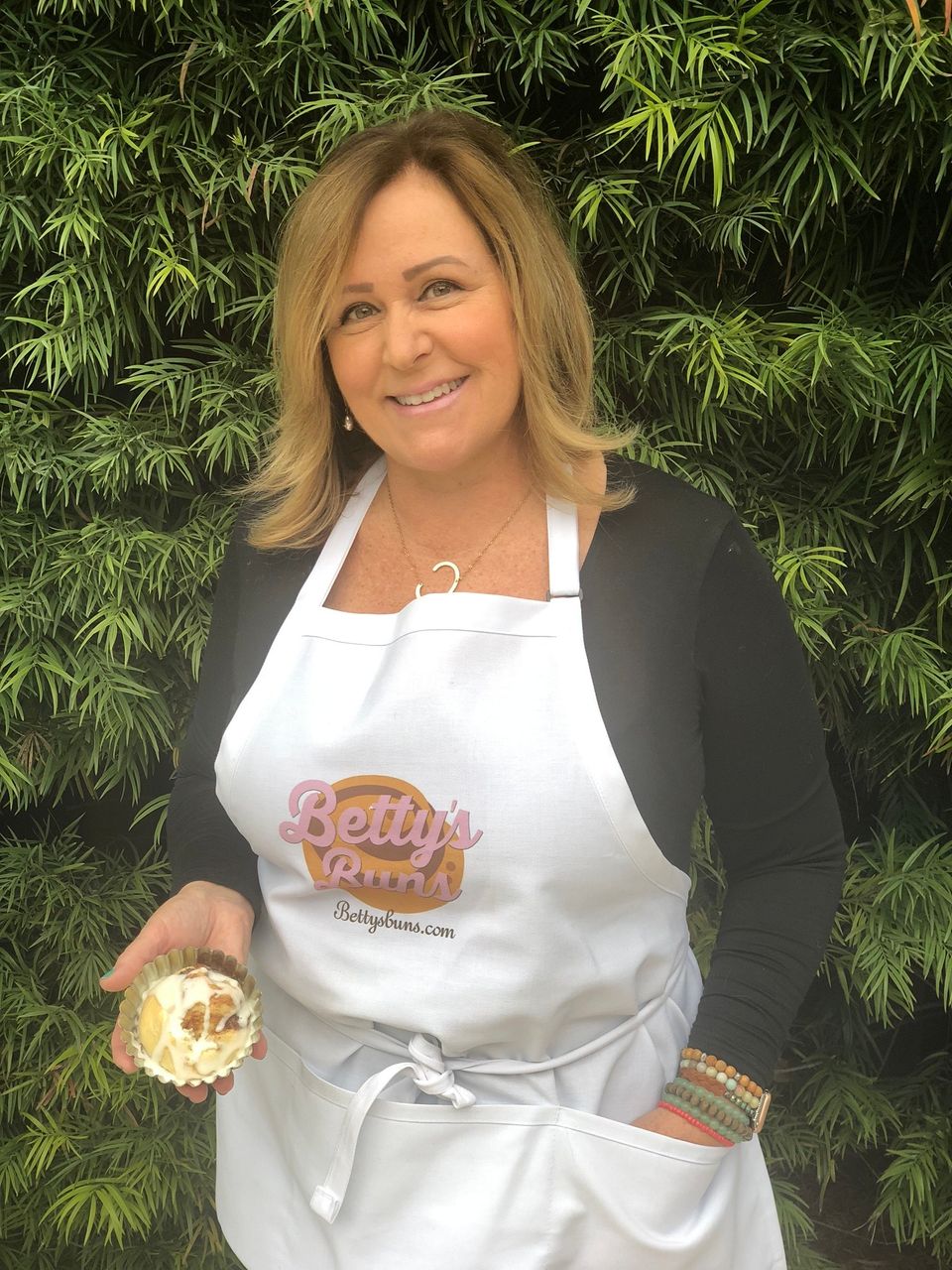 I grew up in a small town near Elvis Country-- Memphis, Tennessee. Betty, my mom or "Miss Betty" as my Southern mannered friends respectfully referred to her, was an amazing homemaker who was forever cooking and baking for her family, friends and others in need.

Betty was well known for her baked goods, and most especially for her trademark cinnamon rolls!
My mom was a single mom and an amazing one at that! She was a hard worker, respectful, kind, generous and nurturing.
She instilled values in me and my two brothers and taught us the importance of God, honesty, integrity, benevolence, and the comfort and sweetness of "home life."
My mom was always baking goods or homemade meals and delivering them to those who were just out of the hospital, ill or just needed some extra love. To say that Betty is my hero and inspiration would be a gross understatement.

So to carry on my mom's tradition and to share this unique treat with folks like you I am proud to name these delicious cinnamon rolls "Betty's Buns."

This is for you, mom!